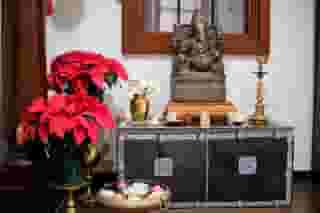 About Sankranti
Sankranti (pronounced - 'sum-kraanthi' ) is derived from a Sanskrit term which translates to "Positive Change". According to Hindu transcripts,

This is the time when the Sun God transitions (changes or kranti) into the zodiac sign of Capricorn. This change marks the end of Winter Solstice and start of Uttarayan (uttara - North; ayana - movement) marking the beginning of longer days. Sankranti usually falls on January 14th every year. Most scholars believe the festival of Sankranti is nearly 5,000 years old.

India was primarily an agrarian society for several centuries. Apart from the spiritual side, Sankranti is celebrated as a 3-day Harvest festival. Crops are harvested, brought home and distributed during this season. Even to this day, the celebration is common throughout India. There is an abundance of Delicious Food and signs of Prosperity everywhere. People are happy and in the mood to celebrate. Family members gather typically at their ancestral home in small villages where elaborate meals are specially prepared with care and love. Friends and neighbors are invited and everyone feels like they are all part of one family. After enjoying lavish and delicious meals, they enjoy playing various sports and games.

In many ways, Sankranti is similar to our Thanksgiving where families meet and celebrate the festival with sumptuous food, love, and gratitude. The festival is a time for communal celebration for a bountiful harvest. Like Sankranti, the first thanksgiving was celebrated over 3 days in 1621. In many South Indian cultures pumpkin is one of the primary foods enjoyed at this time.

Our restaurant "Sankranti" was created to redefine the Restaurant experience. With Authentic Ambience, Mouthwatering Exotic Dishes and Exceptional Service, we strive to bring the Sankranti festival to all our guests.

Join us daily as we celebrate the bountiful harvest, the joy of dining together and the opportunity to experience the rich diverse cultures that make Sankranti a festival of food.

We welcome all of you,
Sankranti Management.
About our Facility
Sankranti is a new "Indian and Intercontinental fine dining restaurant" along with Private dining/banquet facility thats coming up in Johns Creek. The name Sankranti is derived from the traditional Indian Festival that brings together the many diverse cultures of the country to celebrate the harvest much like Thanksgiving in the United States.

Boasting a large ornate traditional dining room and a second-floor contemporary dining room, our restaurant has a capacity of nearly 300 seating and will be offering an upscale daily lunch buffet featuring traditional Indian, Indo-Chinese and intercontinental cuisine with ala carte dining in our main dining room. On weekends, we will be hosting an elaborate brunch buffet.

Our Main banquet has a capacity of hosting upto 450 guests and we also have an additional 175 seat private dining room perfect for mid-sized events, business meetings, rehearsal dinners, etc. The entire building is pre-wired for plug and play, has top of the line audio equipment and is designed to accommodate the most elaborate wedding receptions, sweet sixteen parties, Bar and Bat mitzvahs, business seminars and live music events.

Perhaps our most impressive feature is our 4,000 sq. ft. all stainless- steel kitchen with the best quality kitchen equipment. In addition to a chef's dream, our kitchen truly exemplifies our concept. Our highly experienced team of chefs have the passion and culinary skills to prepare virtually any cuisine for your private event. Sankranti is a multi-cultural Festival of Food and we invite you to make an appointment to tour the most prestigious venue in the Atlanta area.